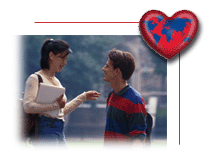 About the Evangelism Training
Our goal at Heart Call Ministries is to assist Pastors and Ministry leaders and lift up the name of Jesus Christ. Our primary focus is to equip the laity (Eph 4:11-12) and to build leaders in their local churches for the Glory of God and to the advancement of His Kingdom.
This training is Biblical and designed to equip believers with the necessary tools to effectively share the Gospel and make an eternal impact in this world for Jesus Christ. It is not a lecture on Evangelism, it is a school with practical teaching, illustrations and testimonies that will encourage, equip and challenge you. We supply you with the training materials and you will be given a simple "roadmap" to use in a small New Testament as part of this school. In just a few short evenings or sessions you will be equipped to lead anyone to the saving knowledge of Jesus Christ without any memorization. This school will help you overcome fear by knowing exactly what to say and the right questions to ask to determine their spiritual condition. You will be prepared to be a witness for the Lord Jesus Christ as He commanded us in the Great Commission. In Mark 16:15 Jesus said, "Go ye into all the world and preach the Gospel to every creature." God has promised to give us the power to witness in Acts 1:8. And in I Peter 3:15 the Bible says that that we should be ready ALWAYS to give an answer to every man that asketh you a reason of the hope that is in you with meekness and fear. This training will equip you with the answer. Many churches of various denominations are using this plan because it is Biblical. We in no way use any negative statements about any denominations and is solely focused on salvation by faith through Jesus Christ. I believe this school will change your life for eternity as we have seen many lives changed and a fire put in the hearts of believers. This training will impact your church and community and build your spiritual walk in ways you cannot comprehend along with impacting multitudes for eternity.
ARE YOU READY TO GIVE AN ANSWER?
For years this training has been taught in churches of all sizes, here in Florida, in other states and around the globe to Pastors, Ministry leaders, lay leaders and as a part of a graduate program in a Christ centered National Ministry. The time is now! The Harvest is ripe!
The DifferenceWHAT MAKES THIS TRAINING DIFFERENT?
It's Biblical - Using the Word of God (Rom. 10:17)
It's Proven, Simple, Practical, Effective and Life-changing
It requires no memorization
Flexible training sessions to fit your schedule
Clear, precise well-prepared plan to equip you
No long training sessions (Learn in a few short sessions)
A hands-on training school, not a lecture
Builds confidence to share anywhere anytime
Hear testimonials to encourage and uplift you
Gives you boldness not fear
Explain the Gospel in a manner others will understand
Teaches how to start a conversation and lead into the Gospel
No previous training necessary
Learn illustrations to better explain the Gospel
Know exactly what to say
Learn follow-up and discipleship techniques
This training is committed to quality and Biblical truths
Concise training materials
New believers can learn immediately
Promotes spiritual growth
Teaches new believers how to grow in the Lord
Builds leaders
Hear testimonials that confirm this training and the results
Builds compassion to reach the lost
Cross-cultural and used worldwide
This training will personally change your life and make an eternal impact on others.Note:
God has called
all
of us as believers to go and share the Gospel (Matt.28:18-20).
God said in His Word that we must always be ready with an answer of the hope that lies within us (I Pet. 3:15).
Realize that God is not looking for your ability but your availability. We cannot save anyone - only God can. However, we are to be obedient to God's command to "Go ye into all the world and preach the Gospel to every creature." (Mark 16:15) and the only way they will hear is if we go (Rom.10:14-15).
Salvation comes only by grace through faith in Jesus Christ (Eph. 2:8-9).
If you would like your life or church transformed, contact us today to schedule a training in your church, ministry or city by clicking on the link at the top of the page.
---