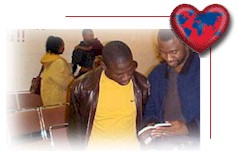 Our Purpose

We are dedicated to efficiently train and equip believers to be effective soul winners for the LORD Jesus Christ. (Prov. 11:30) We are committed to provide a Biblical, simple, practical and proven plan to reach a lost and dying world to bring hope and life with the saving power of Jesus Christ. In being an effective witness with our focus on building the Kingdom and seeing how God begins to build His church.

We are an evangelistic training school dedicated to working with churches, speakers, singers and the laity to better equip them to share the Gospel. To supply the necessary tools for churches and laity to obey The Great Commission to boldly evangelize, disciple and train leaders and thereby assisting in assuming all the responsibilities connected with this command that has been given to all believers. (Matt. 28:18-20) We are committed to excellence, compassion, integrity and accountability until our Lord returns. Our goal is to clearly proclaim the Gospel of Jesus Christ using the Word of God (Heb. 4:12) and through encouragement and illustrations. To help overcome the fears that the enemy has put in believers so that they may become effective witnesses for Jesus. Lastly, to help mobilize and build leadership in the churches to train others to reach their communities and to provide growth in the church with new believers.

It is our hope that you will experience the incredible joy of seeing friends, neighbors and loved ones come to the saving knowledge of Jesus Christ and that this training will remain a part of your life forever as it already has in many others.


If you would like your life or church transformed, contact us today to schedule a training in your church, ministry or city by clicking on the link at the top of the page.


---